Buckingham Class
(Birth - 2's)
Facilities
Babies benefit from a large, bright open plan day room, well equipped with activities and toys suitable for their age. They have a messy play area where they are encouraged to develop and grow through the use of creative activities. They benefit from a sensory area which encourages the child's senses through a soothing and stimulating environment. Music is played throughout the day coupled with the baby mobiles which hang from the cots, creating a calm and tranquil atmosphere. The babies also have a separate changing room and milk kitchen area.
Staff
Our staff are highly qualified and are specifically trained in caring for babies. We benefit from a qualified teacher and a Level 4 Early Years Practitioner / Room Leader (with years of experience working with babies and staff being mothers themselves!). All staff have Paediatric First Aid and by using the Early Years Developmental Stages, we work with you to ensure your baby achieves their full potential.
The nursery benefits from our very own nurse (with over 40 years experience) and an English Teacher (with over 45 years experience) who specializes in developing speech, language and communication.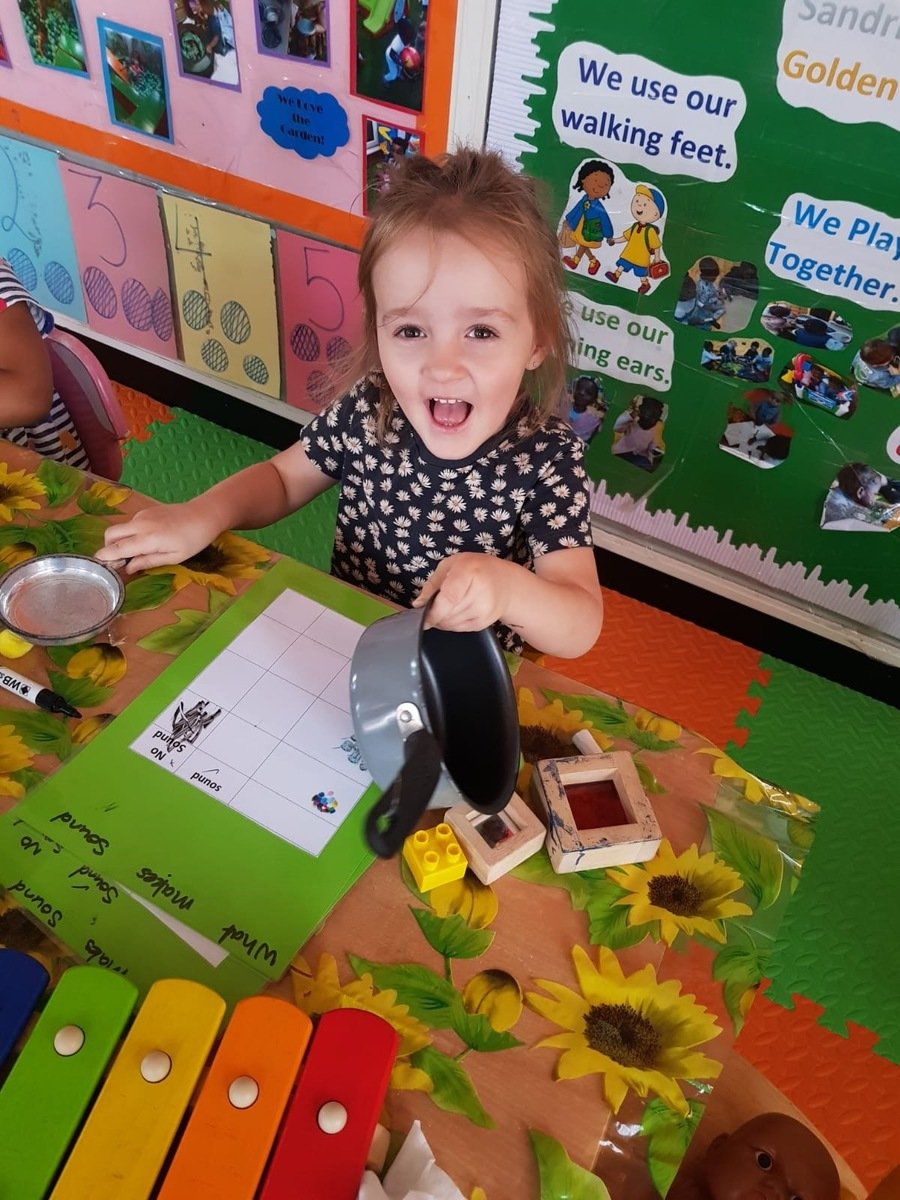 Feeding

All feeding matters will be discussed with parents at the first settling session. We ask for parents to provide formula milk. The staff will make up bottles when required on a daily basis in our milk kitchen. Empty bottles will be steralised and returned. We can provide bottles, please ask. We are happy for breast milk to be provided in a bottle but this must have been expressed on the day the baby is attending the nursery and will be kept in our milk fridge clearly labelled. All bottles, dummies and feeding equipment are sterilised.
Weaning
Weaning is started following full discussion and advice from parents. Pureed / mashed fresh foodis provided and is cooked fresh daily by our chef. All of our produce is mostly purchased from Tesco's Organic Range. As weaning progresses new foods will be introduced to the babies diet after consultation with parents. We follow our weaning policy (please see our food policy on the nutrition page). All dietary requirements will be adhered to and new consistencies will be introduced. All babies will be fed on demand in line with parent's routines and where by the same practitioners until they are ready to join in with the routine of the group.Please see our baby menu on our nutrition page.
Sleep
We encourage young babies to sleep on their backs, foot to feet in cots. Sleeping babies are always supervised and their sleep times are recorded. Each baby/child will have separate bed linen which will be washed frequently. The room temperature is maintained at a comfortable level and recorded. The room is darkened and quiet music is played to ensure baby receives a good sleep!
Nappy changing
All babies will be changed every one – three hours and when needed. A strict nappy changing procedure is followed by all staff. All nappy changing times are recorded in parent communication books and on our own nappy chart. Nappies, cream, wipes etc need to be provided by parents and a good stock kept at the Nursery. Parents will be informed when their supply is getting low.
Their day at Monarchs
The staff plan around the new Early Years Foundation Stage framework allowing the babies to have the opportunity to experience a variety of different sensory experiences including musical instruments, sand, water and other malleable play, various art activities, outdoor play and story time sessions. A role play area, books and a selection of toys are accessible to the babies at all times and they are cleaned and recorded after each use to prevent cross infection.
Transfer to next group
The babies move into the toddler group (Amethyst Room) when they are 18 months. The 0 - 3 area operates a free flow for parts of the day. Parents are informed of their settling sessions and new key worker. Parents are welcome to be involved in any of these sessions and have lots of opportunities to speak to their new key worker. Staff will fill in a transition form for the next group informing them of all their likes, dislikes, sleeping habits etc.
A typical day

7:00 Child led play / Key Times

8:00 Breakfast!

8:30 Imaginary / Skills Play

9:15 Circle time (welcome song time)

9:20 Adult led activity

9:30 Soft Play

10:30 Sleep time

11:55 Story time

12:00 Get ready for Lunch (wash our hands)

12:05 Lunchtime!

12:30 Circle time

13:00 Adult led activity

13:20 Dance

13:30 Child led play / Key Times

14:20 Creative / Messy Play

15:00 Sleep Time

16:30 Tea Time!

17:00 Song / Story Time!

17:20 Child led play

19:00 Home time
Singing and counting before every meal time.
Our routine is flexible and in response to individual child's interest, age, developmental stage and needs.
We follow the same sleep and meal routines as home to ensure consistency!
Settling ins

We encourage you and your child to visit two or three times prior to starting. These sessions need to be pre-booked with the Childcare Manager or the Room Leader. There is no charge for these sessions. Settling sessions are normally 2 hours and can be booked at times at your convenience.

On the first visit we suggest you stay with your child for one to two hours depending on the child's age and previous nursery experience. This gives you a chance to spend time with your child's key worker to discuss issues such as weaning, sleep patterns and dietary requirements.
We do offer a second and third visit and we suggest on this occasion, you stay with your child until they are happy for you to leave. We may suggest that you leave the room or the Nursery and go off into town for an hour or so. We always encourage parents to always say "goodbye" to their child in order to keep the trust between child and parent.

If after these two or three visits your child is still not settled, then we will suggest another settling in session. This will depend on the child. Some settle very quickly and others take longer. If your child becomes unsettled when you leave them at any time over the first few weeks of starting Nursery we will immediately call you. Please feel free to ring and ask how they are at anytime.
Sessions

Full day: between 7am - 7pm

Half day: any 6 hours during 7am - 7pm.